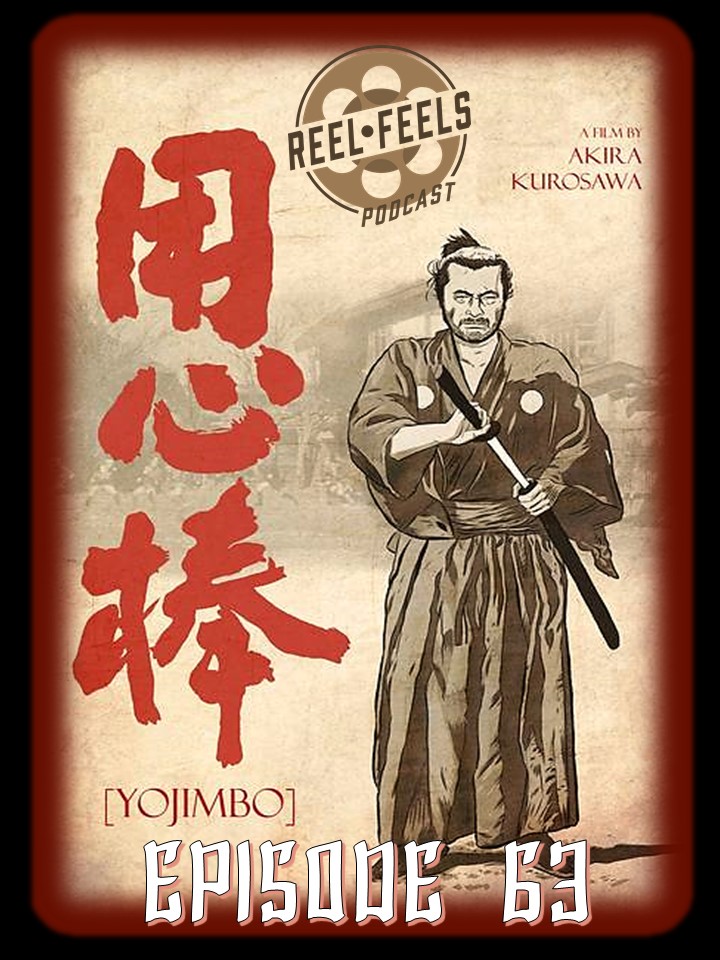 A nameless ronin, or samurai with no master (Toshirô Mifune), enters a small village in feudal Japan where two rival businessmen are struggling for control of the local gambling trade. Taking the name Sanjuro Kuwabatake, the ronin convinces both silk merchant Tazaemon (Kamatari Fujiwara) and sake merchant Tokuemon (Takashi Shimura) to hire him as a personal bodyguard, then artfully sets in motion a full-scale gang war between the two ambitious and unscrupulous men.
A lone stranger comes into town and through his cunning mind and skill with a sword pits two rival houses against each other!  It's "Yojimbo"!  Host Jack has given us a treat this time around for our #BlackAndWhite genre of film for Episode 63!  We cover things like the costuming, the sword fighting, clever characters and even a scandal that happened 3 years after this film came out that resulted in a lawsuit!  This landmark film was a joy to review and we can't wait for you to listen.  
We are the Reel Feels Podcast, every other Wednesday we'll bring you a new movie with all the feels you can handle.  We'll laugh, we'll cry and possibly restrain the frustrations to curse the heavens. But what you can count on is three guys sharing their love of cinema with you.  
Please leave us a review and share your "reel" feelings. 
Don't forget to call the "Tucc" line (Reel Feels Hotline) and leave us a voicemail: 661-376-0030
Patreon: https://www.patreon.com/ReelFeelsPodcast
Email:  reelfeelspodcast@gmail.com 
Twitter:  https://twitter.com/ReelFeelsPod
Play Now